With some business stuff to deal with in Shanghai, I had to fly on short notice into China and a cursory search online gave me some good value fares onboard China Southern in Business Class. Best of all it allowed me to return via Los Angeles allowing me to attend a family wedding there as well. The outbound routes me via Guangzhou on the Boeing 787 Dreamliner which will mark the first time I board this plane. The return will allow me to try China Southern's A380 (also the only Chinese carrier to operate an A380).
In order to purchase this special fare though, I had to call up their travel agency in Los Angeles and reserve a ticket the traditional way. Fortunately it was easy enough to do this via e-mail and with a credit card. I was also able to get my seats selected after booking the flights. However all other online functionality like booking my meals and online check-in was virtually non-existent as China Southern's website was very clunky and not user-friendly at all unless passengers have a Chinese mobile number and is based in China.
On the day of departure, I boarded the sky train which is conveniently located in downtown from my apartment. The journey took about 25 minutes and dropped me off at the airport. On arrival, I head straight to the international departures and check-in area and was amazed to find an empty check in counter for China Southern (CZ). There was no wait for business class, even the queues for economy was short. For this SkyTeam flight, I decided to credit miles to the Air France FlyingBlue program since I think only Air France has an aspirational award for miles. I am actually a lowly Silver with GarudaMiles but I figured I will consolidate all future SkyTeam flights with Air France instead.
During check-in, I also managed to confirm my window seat as I only had an aisle seat previously since CZ seems to block the first 2 rows. With the boarding pass in hand, I made my way past the check-in counters and noticed that YVR is slowly becoming a SkyTeam hub with AF starting daily flights to Paris while CZ, MU, CI and Korean Air already operates flights into the city. Meanwhile KLM has seasonal flights in summer, if I am not wrong.
There is really not much to prepare for security that day since I did not pass by United States, and that meant short queues at security. No bothersome US immigration here made the journey much more a breeze. I was even able to do some duty-free shopping before proceeding to the lounge.
China Southern uses the Plaza Premium Lounge like other Sky Team or non-affiliated airlines which was quite decent. In fact I might even say they are somewhat better than the Air Canada Maple Leaf Transborder or Cathay Pacific Lounge in Vancouver.
On entry there is a small rotunda where the receptionist will check your credentials. Some credit cards allow entry into this lounge like the American Express Platinum card.
Once inside, there is a small deli counter and a row of work-station. The deli counter serves coffee and other beverages along with a selection of baked goods and sandwiches.
By the window there is the main seating area, and there are also a couple of seats past the deli that looks into the main departure waiting area. To the left of the entrance foyer, there are some enclosed VIP sections that should be reserved for First Class passengers. And a section of the lounge was dedicated only for Air France/KLM passengers.
Beside the lounge area, there are shelves that stocks a good range of newspapers with IHT, FT and WSJ. There are also local newspapers too with another shelf along the corridor for magazines.
In between the main lounge and the dining area, there is a large washroom with some shower rooms. Aside from that the lounge is quite small in size and can feel crowded. The lounge does not seem to have their own wifi as I just logged into the airport's free wifi which is better than most lounge wifi signal anyway based on my experience at the Air Canada Maple Leaf lounge.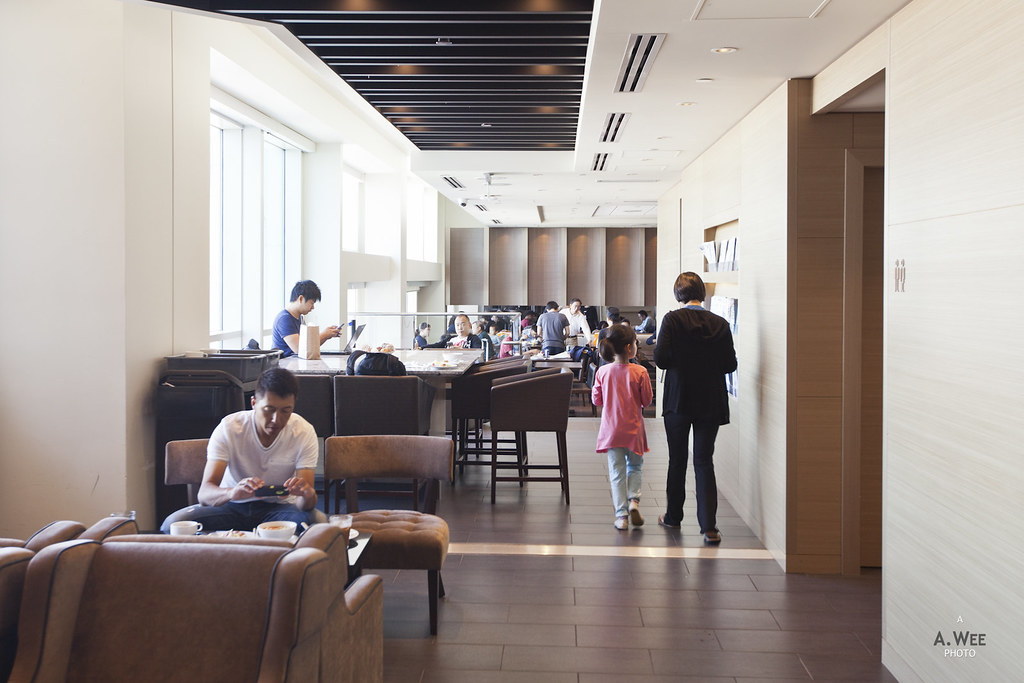 Walk past the corridor and guests arrive at a nice and large sit-down dining area. As it was lunch time, the place was busy though I did manage to get a seat.
The buffet area has a decent selection of stuff including a cookie and candy jar.
For hot dishes, there is fried rice and dumplings.
To cater to the all day dining in the lounge, I think they have pastries and a decent coffee machine. There are also tea and juices available along with the usual soft drinks from the freezer.
For Asian travellers, the buffet selection was just close to perfect. No alcohol seen here but since I am not a drinker, that does not matter to me. I do believe beer was available and some wines too.
There was also a couple of soup on offer. One was a curry coup that was savoury and a bit spicy with another being a classic Asian dessert soup of Red Bean that was sweet.
The best feature of the dining in the lounge though was the noodle bar. Even though they only have one selection, it is good enough to make me think this is probably the best airline lounge for international passengers in Vancouver.
The lounge was quite crowded when I visited and there are barely enough seats but the food selection was very good and I can certainly make myself full before I board the flight. While the food was catered to Chinese and Asian passengers, the food does taste good and it might also have to do with the lounge user demographics. With that being said, I still think the Plaza Premium Lounge is one of the better lounges in the International section of the terminal and definitely worth a drop in to enjoy the food here.